After reading Splintered by A.G. Howard, which is based upon Alice in Wonderland, I decided to pick up a copy of the Johnny Depp movie from the library.
My 10 year old son and I watched this for our family movie night this weekend and he REALLY enjoyed it. He said I should have given it 5 stars on Flixter, but I wouldn't go that far. I gave it a generous 4 stars because Preston was watching. I probably would have settled on 3.5 without his assistance.
I really enjoyed the costumes, bright colors, and the animation was very well done. I haven't seen the original version in a really long time, but I enjoyed sharing the movie with my son. I don't think he would have enjoyed the older version nearly as much as he enjoyed this. He loves all of the new Disney Pixar films, but when I try to get him to watch some of the older classics, he loses interest.
Johnny Depp was an awesome Mad Hatter, but he was completely unrecognizable with the amount of makeup they had him wearing. I guess I was expecting him to look more like A.G. Howard's version....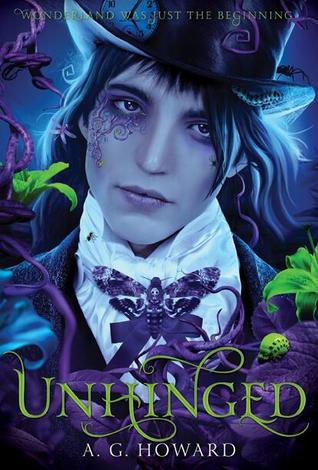 Overall, this was a nice family film, but I'm glad I didn't pay to see it in the theaters. I am, however, eager to read Unhinged to see how Howard continues her version of this classic story.