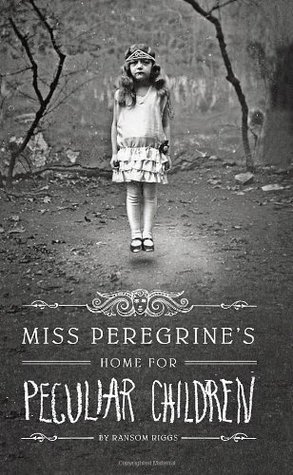 Jacob is a sixteen year old high school boy who never really fit in. He is the only person in his family that has a strong relationship with his grandfather, but even he hasn't been able to believe his grandfather's outrageous stories for years. After his grandfather dies, Jacob is determined to uncover what his final words truly meant.
His grandfather grew up during World War 2 and fled to an orphanage off the coast of England for refuge as a boy. He always described it as paradise with all sorts of peculiar children. He showed Jacob pictures of the children, but nobody in their right mind would have believed the photos were real. Bees flying out of a boy's mouth, a girl floating in thin air, another child that is invisible, etc. This is the best part about the book in my opinion. Ransom Riggs used dozens of unaltered old photographs from collectors and wove the story around the images. It was very creative, imaginative, and unlike anything else I have ever read.
The majority of the story is spent on the island as Jacob tries to discover the truth behind his Grandfather's past. I really enjoyed the story, but I would have been disappointed if I read this book when it was first released. I didn't realize until the end of last year (three years after the release of this book) that there was going to be a sequel. The ending is left wide open and there are a million loose ends, which would have been extremely frustrating to the reader that believed this was a stand-alone novel. As it stands today, I am anxious to pick up where this story left off and already requested a copy of Hollow City from the library.
The movie version of this book is currently in production and scheduled to be released in March 2016. I'm not sure how they will incorporate the pictures into the film, but I am excited to see how this story will be depicted on the big screen. The setting will be very unique with the old school and the island with its ever changing weather. There is a lot of action and several "monsters" at the end of the book, which should appeal to a wider audience than just the YA reading population. With the hit or miss success of YA books to movies in recent years, I really hope this movie will get the support it deserves.