Kafe Kerouac is the home of slam poetry in Columbus, Ohio. The Writers' Block Poetry group gathers at 8:00 pm every Wednesday for open mic night and hosts a slam on the last Wednesday of every month.
I noticed on their Facebook page that they were hosting a slam last evening in preparation for the Individual World Poetry Slam being held in Washington D.C. this October. I've never attended a slam before, but I was intrigued after reading Slammed and Point of Retreat by Colleen Hoover.
With my son out of town for the week it was the perfect opportunity for my husband and I to experience something new. He was a little reluctant when I first shared my plans for a date night at a poetry slam, but he was pleasantly surprised. The emcee was highly entertaining, the performers were extremely talented, and I don't think I have laughed so hard in a very long time.
The venue is quaint and serves coffee, beer, and wine at reasonable prices. Here is a picture of the bar and the adjacent room where the performances are held.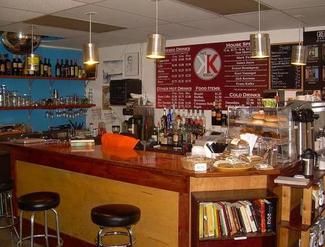 The slam participants drawing numbers to determine the order.
While I have no interest in ever performing, I will definitely try to attend another show in the future. I just wish the venue was a little closer to home and the performances weren't so late on a work night.