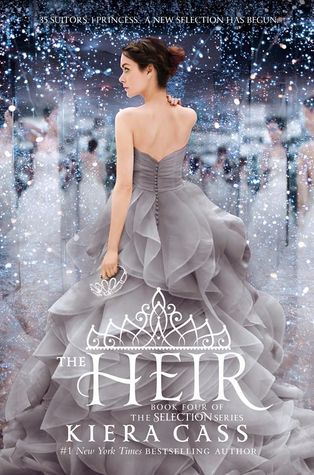 I was elated when Kiera announced The Selection series was going to continue beyond the initial trilogy. Then she shared this beautiful cover and I was surprised to see that The Heir was a daughter. I'm sure continuing the cover theme had something to do with this decision. It also allows Illea to have their first ever female run selection. Thirty five men will be selected at random for a chance to win the heart of Princess Eadlyn.
Eadlyn grew up knowing she will eventually take over the throne. She considers herself the most powerful woman in the country, which isn't perceived well by the public. As a reader, I was very put off by her personality at the beginning of the book. I couldn't figure out how the daughter of Maxon and America could turn out like this. Her brothers appear to be very well adjusted and are loved by everyone, but they aren't next in line. Apparently the added pressure has gotten the better of her over the years.

As the selection progressed, Eadlyn began to soften and we could see glimpses of her real personality. The dates began to feel more spontaneous and energetic and didn't come across so much like work. By the end of this book I definitely have a favorite, but I'm beginning to wonder if Eadlyn is leaning towards another character.

The last few chapters were a bit shocking. Kiera left me sitting on the edge of my seat wanting more, which we all know will not happen for almost a year. The selection is far from over and the additional drama that was inserted at the end was almost cruel and unusual. The ending more than made up for Eadlyn's cold personality at the beginning. I think she has a lot of potential and I'm hopeful she will be able to find a connection with someone that will rival the love her parents were able to find through this process.

If I were going to interview Kiera, the first question I would ask would have to do with the names she selected for the characters. The majority of them have very unusual names or common names with unusual spellings. Eadlyn, Ahren, Osten are a few examples. I would love to know how she came up with all of the names. Are these common names in another country that I'm just not familiar with, besides the fictional country of Illea?

Overall, this was an excellent addition to the series. I gave it 4 stars and would recommend it to any YA fan.