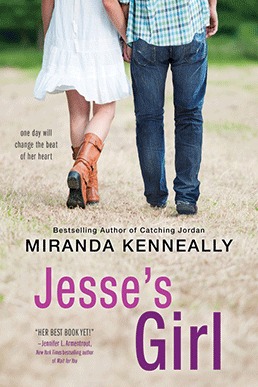 This is the first book by Miranda Kenneally that I have read and I absolutely loved it. Jesse is an eighteen year old country music star and Maya is a high school senior who is an aspiring musician. Her musical taste is more towards the 80's, so getting paired with Jesse for a job shadowing assignment by her principal was not nearly as appealing as it would have been for most girls her age.
Jesse and Maya have a very awkward first encounter, but their day of shadowing turned out to be one of the best days of either of their lives. Picture Ferris Bueller's Day Off... Nashville style. Maya realizes how talented Jesse is and begins to really appreciate the musical advice he gives her. For Jesse...Maya is a breath of fresh air that he has desperately been needing. Life in the music business has caused him to isolate himself from everyone except his immediate family and managers. He has been burned so many times by his supposed "friends" that he has a hard time trusting anyone. Maya manages to show him that he can still have a life while maintaining his career.
I haven't given a book 5 stars in a while, but this one was definitely worthy. I was completely engaged and actually finished the entire book during my lengthy travel day with my family. My husband even commented that I needed to get my head out of the book. Once I was finished...I still couldn't put it down. I was flipping back through to reread some of my favorite scenes and quotes.
I have to give Flo a big THANK YOU for sending an ARC of Jesse's Girl to me.