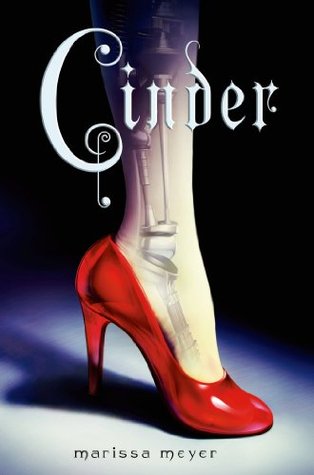 With the upcoming release of the final book in this series, Winter, I decided to join the Lunar Chronicles Read Along hosted by
The Book Addict's Guide
.
Cinder is a unique twist on the traditional Cinderella story. Cinder is a cyborg, which is someone who is part human and part machine. Her step-father died from an illness shortly after her arrival and her step-mother blames her for no apparent reason. There are of course two step-sisters to keep with the original story.
Rather than having to scrub the floors and clean the house, Cinder is one of the best mechanics in the area. She can repair just about any mechanical device, but all of the money she earns goes to her step-mother. As a cyborg, she is technically the property of her step-mother and is not considered a free citizen.
The story is set well into the future in New Beijing, which is one of the rebuilt cities after the fourth world war. Earth has been trying to establish a treaty with the Lunar people for over a decade, but the Lunar Queen's demands have been unreasonable. The Lunar Queen hopes that the newly crowned Emperor of New Beijing will finally be her chance to control Earth as well as the moon. With a plague spreading across Earth, the Queen may have something to offer that the Emperor will not be able to refuse.
Overall, I found this book to be very entertaining. I loved "prince charming" (Emperor Kai) and can't wait to see how things unfold her him and his people in the next book in the series. He is in a very difficult spot with the manipulative queen, but I feel like he will have some leverage as this series progresses. There is also hope for Cinder. She is more valuable than she ever imagined and may finally be able to gain her independence and more. I wish there had been a little more to this love story, but hopefully that will escalate throughout the series.