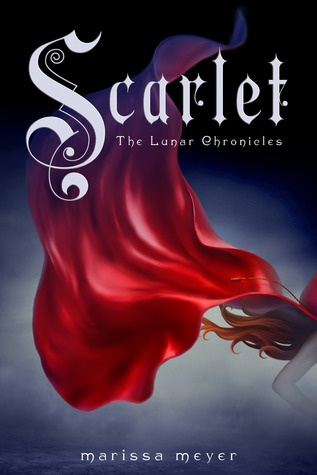 Scarlet is the second book in the Lunar Chronicles series. All four books have already been released, so I am trying to work my way through the series. As a little added incentive, the Book Nerds were invited to a reception at BEA this May that Marissa Meyer is scheduled to attend!!
Cinder, the first book in the series, was based upon the Cinderella story and was told from Cinder's point of view. This book picks up where the previous book left off, but we are now introduced to Scarlet Benoit. Her grandmother was kidnapped and she is determined to find her. She meets a stranger named "Wolf", who knows who may have taken her and why. As you may have already guessed, this story is based upon Little Red Riding Hood. There are a number of clever references throughout the book that tie this story back to the original.
While Cinder and Scarlet do not know each other prior to the start of this book, their pasts are linked. They must work together if they are going to be able to save Emperor Kai, New Beijing, and the world as they know if from the Lunar Queen. The story is told from alternating points of view, so we are able to keep tabs on Emperor Kai, Cinder, and Scarlet.
I haven't looked ahead yet to see what fairy tale we will be reliving next, so it is going to be a complete surprise when I start reading Cress. All of our favorite characters were left hanging in the balance at the end of Scarlet, so I don't think I will wait too long before continuing this series.
If you have already read Cress and Winter, I would love to hear your thought on the final two books. Which book was your favorite in this series?