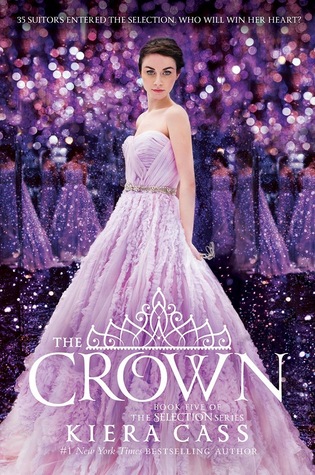 The Crown is the fifth and final book in the Selection series. If you aren't familiar with the series, just think of a season of The Bachelorette with the winner marrying the future queen. The field is down to the elite and Eadlyn isn't any closer to finding true love. I don't think she even knows what she is looking for.
I felt like Kile and Hale were the obvious front runners and I was rooting for Kile most of the book. I was happy to see Eadlyn progress from the spoiled snob she was in The Heir to an approachable leader who actually cares about her people. She was very compassionate and understanding in a few situations while interacting with the Elite, which was a huge step in the right direction. I felt like she made lasting friendships, which she never would have been capable of doing prior to the selection.
I was happy to see that Maxon, Eadlyn's father, had a larger presence in this book. I loved his character in the original 3 book series and was disappointed when he had such a limited role in The Heir. There is a wonderful scene at the end of the book between Eadlyn and Maxon that any fan of this series will love.
Overall, this was an excellent conclusion to the series. Eadlyn made the right choice for herself and did not allow public opinion to sway her decision. She never thought it would be possible, but she finds a connection with someone that may rival the love her parents found during the last selection. This fairy tale really did have a happily ever after and I was satisfied with how the series ended.