Stacking the Shelves is a weekly meme hosted by
Tynga's Reviews.
It is all about sharing the books you are adding to your shelves, be it physical or virtual. This means you can include books you buy in a physical store or online, books you borrow from friends or the library, review books, gifts and of course ebooks!
Tynga publishes her post each Saturday, so be sure to link up your posts and check out what books others have added to their shelves that week.
From the Library:
I finished reading the second book in this series last month and want to see how this series concludes. This will be one more series I started prior to the beginning of the year that I have completed for my challenge.
Ensnared by A.G. Howard (Splintered #3)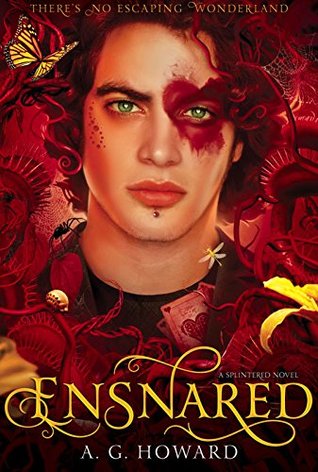 Goodreads Overview:
After surviving a disastrous battle at prom, Alyssa has embraced her madness and gained perspective. She's determined to rescue her two worlds and the people and netherlings she loves. Even if it means challenging Queen Red to a final battle of wills and wiles . . . and even if the only way to Wonderland, now that the rabbit hole is closed, is through the looking-glass world--a parallel dimension filled with mutated and violent netherling outcasts. In the final installment of the wildly popular Splintered trilogy, Alyssa and her dad journey into the heart of magic and mayhem in search of her mom and to set right all that's gone wrong. Together with Jeb and Morpheus, they must salvage Wonderland from the decay and destruction that has ensnared it. But if they succeed and come out alive, can everyone truly have their happily ever after?