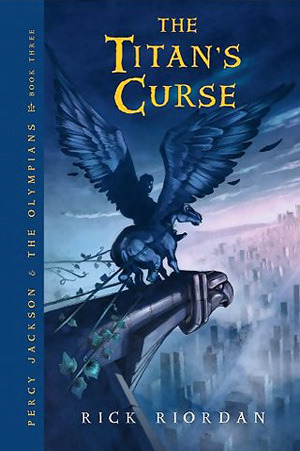 The Titan's Curse is the third book in the Percy Jackson and the Olympians series. In this installment, the Hero's and Hunters need to work together to save Artemis, the Goddess of the Hunters, and Annabeth, who went missing early on in this book. The Oracle informs one of the hunters, Zoe Nightshade, that...
"Five shall go west to the goddess in chains,
One shall be lost in the land without rain,
The bane of Olympus shows the trail,
Campers and Hunters combined prevail,
The Titan's curse must one withstand,
And one shall perish by a parent's hand."
Percy, Thalia, Grover, Zoe and Bianca must rescue Artemis and Annabeth prior to the winter solstice, which is when the Council of the Gods is scheduled to take place. To add to the excitement, Luke and Kronos are still trying to conquer the Olympians. They will stop at nothing in their attempts to prevent the hunters and heroes from completing their quest.
I really enjoy seeing how Rick Riordan twists Greek mythology into these stories. We meet several Gods and Goddesses including Apollo, the son of Zeus and the twin brother of Artemis, who offers the heroes a ride in his sun chariot. The hero's also receive assistance from Annabeth's mother Aphrodite...the goddess of love and beauty. We discover that the "Titan's Curse" has to do with Atlas bearing the weight of the heavens on his shoulders.
I have been reading this series with my ten-year-old son and he has really enjoyed learning about the Greek Gods and Goddesses. Unless a student decides to study Latin, which I did in high school, I don't believe kids are exposed to these ancient stories. Riordan does an excellent job of weaving the myths into an action packed and entertaining story that people of all ages can enjoy and appreciate. I would definitely recommend sharing this series with elementary and middle school children as well as reading it for your own enjoyment.