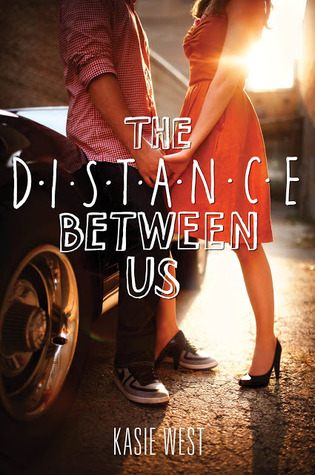 The Distance Between Us is about a seventeen year old girl named Caymen Meyers. Her mother became pregnant with her at a young age and her parents essentially disowned her. Her father fled before she was born and his wealthy parents paid her mother to keep quiet. As a result, her mother is the only family she has ever known.
Her mother used the money to open a doll store, which has been their life ever since. They live above the store and Caymen helps out whenever she isn't in school. She has learned from her mother's experience and years of warnings to never trust the rich. This is why she was immediately put off when the charming, attractive, and obviously rich Xander Spence entered her store. As their relationship begins to build, she is constantly doubting his motives.
As the story progresses, Caymen begins to realize her mother has been keeping things from her. She begins to question everything she was taught and finally allows herself to live her own life and make her own decisions.

First of all...how could anyone not love Xander Spence? He started out a bit conceited and sure of himself, but underneath the pretty exterior he is very thoughtful and sweet. Caymen, on the other hand, is sarcastic and snarky. While it was funny at times, I felt like she was masking her own insecurities and shortcomings by lashing out at others. Her misguided stereotypes prevented her from opening up to others and expanding her horizons.

I enjoyed the story, but I felt like the fact that Xander is very wealthy and Caymen is poor was a forced subject in the book. Rather than focusing on the feelings, relationships, and events of the story the reader is constantly reminded of the fact that he is rich....and the rich can't be trusted. Caymen constantly feels like she is playing Cinderella and eventually the coach will turn into a pumpkin and it will all come to an end, even though Xander never gives her a reason to believe that is the case.

This is the first book by Kasie West that I have read. Overall, I enjoyed the story and characters and thought the dialog was well written. As her writing evolves, I hope she will give her readers a little more credit and allow them to interpret things for themselves. Not everything has to be spelled out in black and white and certainly not multiple times.

Pivot Point is the next book by Kasie West that I plan on reading. I have read some decent reviews and would love to hear your thoughts on that series.