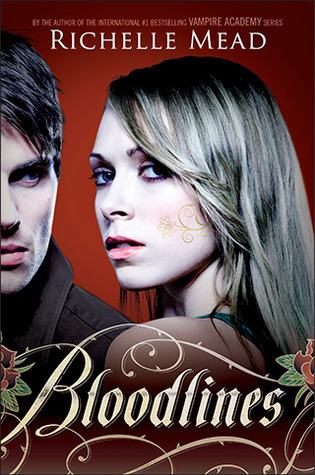 It has been a couple of years since I completed the Vampire Academy series, so I decided it was time to finally read Bloodlines. Adrian Ivashkov was my favorite character in that series, so this book was almost a guaranteed winner for me since he has a much larger part in this story.
The story is told from Sydney Sage's point of view. Her job as an alchemist is to protect humans from the vampire world and to make sure humans are not aware of their existence. She was labeled a "vampire lover" because of her role in helping Rose and her friends in the Vampire Academy series, but she feels she did the right thing. She explains her reasons for the decisions she made and the alchemists decide to giver her another chance. She is assigned to protect Queen Vasilisa's sister, Jill, while the royal court works to change an ancient law that requires the King or Queen to have a living relative.
Throughout Bloodlines we learn considerably more about Sydney and the role the alchemists play. We are introduced to Keith, who is the head alchemist in Palm Springs, which is where Sydney is assigned. He spent some time living with the Sage family when he was younger and Sydney is clearly not fond of him. The only thing keeping their interactions civil is the fact that she has some dirt on him that could ruin his reputation. When she discovers he is involved in far more than she ever could have imagined, she uses the knowledge to her advantage.
We are also introduced to an elderly Moroi, Clarence, and his son Lee. Clarence's niece was killed by Strigoi well before the start of this book, but he firmly believes it was a vampire hunter who really killed her. Adrian is forced to stay with the older man, which is the complete opposite of the party boy lifestyle he is used to. In addition, his parents are only giving him a small allowance, so he isn't able to maintain his lavish lifestyle. He quickly latches onto Lee and Sydney to help get him out of this unsuitable arrangement.

The ending of Bloodlines was a complete surprise and clearly sets up the plot line for The Golden Lily, which is the next book in the series. I included the sequel on my COYER Summer Reading List and can't wait to see how the story proceeds.