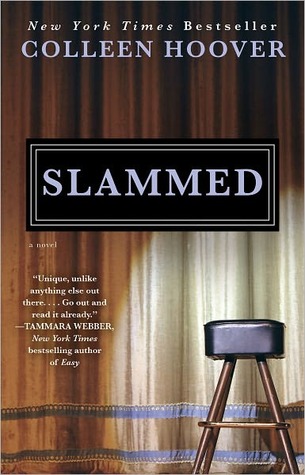 Slammed is the first book by Colleen Hoover that I have read and I absolutely loved it. It starts out with the tragic loss of Lake's father and her family's move from Texas to Michigan. Why would anyone want to move to Michigan just before winter? I live in Ohio and it has been so cold this week the kids have only had school two days. It has absolutely nothing to do with the snow. It is actually colder in Dublin, OH than it is at the North Pole. No joke...I checked! Lake felt much the same way, but her mother found a better job in Michigan and they needed the money.
Lake's younger brother quickly becomes best friends with the boy across the street, who is the younger brother of Will Cooper. Lake and Will are a few years apart in age, but there is an immediate attraction between the two. Will introduces her to Slam Poetry, which I had no idea existed prior to reading this book. I loved seeing how each of the characters expressed their thoughts, feelings, and emotions through this performing art. I was so intrigued with the idea of slam poetry that I found a place not far from my home that hosts a slam every Wednesday. I can't wait to attend, but I have no intention of ever performing.
Several of the characters in this book have been dealt a difficult hand in life, but they all seem to grow and make the most of their situations. I'm sure everyone who reads this book will fall in love with Will Cooper, but it has nothing to do with his good looks and charm. He is an exceptional character and more than earned his place on my fictional boyfriend list. I was pleasantly surprised to discover this is not a stand alone book. There are two additional books in this series, which have already been released!! I've already requested Point of Retreat and look forward to reading it soon!