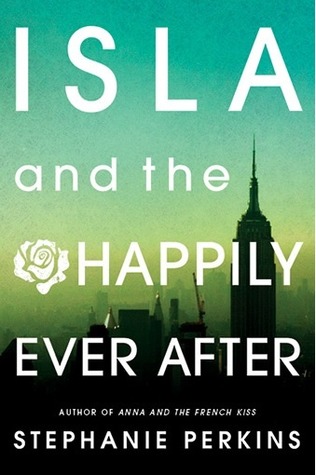 It has been over two and a half years since I finished reading Anna and the French Kiss and Lola and the Boy Next Door. I honestly could not remember who Isla was prior to starting the book, but I did not feel bad once I remembered. She had a VERY small part in Anna and the French Kiss. She is a year younger than Anna and Etienne and attends SOAP...the School of America in Paris. She has a huge crush on Josh, who was good friends with Etienne, and is a very talented artist in her grade.
Both Josh and Isla are from New York City and have attended the School of America in Paris together for three years. They are both home for the summer between their junior and senior year and bump into each other at a local cafe. Isla just had her wisdom teeth removed and is more outgoing than normal, thanks to some pain killers. This was just the thing these characters needed to break the ice. Isla has been in love with Josh since her freshman year and he has secretly been interested in her as well.
After visiting Paris last year I was really excited to read this story, which included many of the sites I visited. Isla's best friend since childhood, Kurt, is obsessed with the catacombs, the underground tunnel system in Paris. If you have never been there, here are a couple of the pictures I took. It isn't something most tourists know about, but I would HIGHLY recommend taking a tour if you are even in Paris.
I'm sure everyone wants to know how Anna, Etienne, Lola and Cricket are woven into this story, but I'm not going to spoil it for you. I will simply say that Stephanie had a brilliant way of bringing all of these characters together for a short period of time. Isla has a chance to interact with Josh's friends and we are able to see how their lives and relationships have progressed.
The one thing I can say about Stephanie Perkins is that she writes the most lovable characters. They are all very unique and their stories are far from perfect. They make mistakes along the way, but they become better people because of what they learn on their journey. While I always appreciate a Happily Ever After, it has a greater impact when it doesn't come handed to you on a silver platter. This is a brilliant series that I consider a MUST read for any young adult fan.