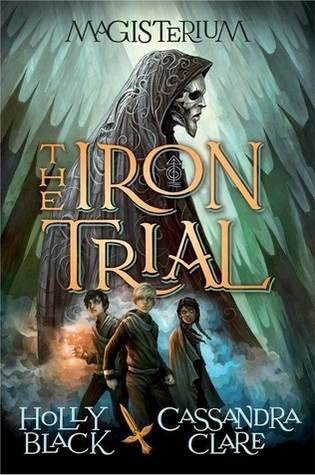 Flo and I were really excited to receive signed copies of The Iron Trial at BEA last year. I knew nothing about this new series except that it was classified as middle grade and it was written by HOLLY BLACK and CASSANDRA CLARE!! I was sold simply by the names of the two authors. I've loved all of their books that I've read, so a collaboration between the two had to be good!
The Iron Trial did not disappoint. The book is about a group of twelve year old children who compete for admission into the Magisterium. The Magisterium is a school for magic, but most of the parents think their children will be going to a dance school, acting school, etc. Anything except magic. The child must have a known aptitude for magic to even receive an invitation to the trials and only the best are granted admission into this prestigious school.
The majority of the story is about their arrival to the school and their first year of training. Callum Hunt, Aaron Stewart, and Tamara Rajavi all live in the same pod and are being trained by Master Rufus. They are the focus of the story, but we do get to meet several of the other students in their Iron Year...AKA first year.
The story definitely has a Harry Potter feel to it with the magic, a special school, the focus on two male and one female character (Harry, Ron, Hermione), but that is where the similarities end. The characters must use the elements of nature as their source of magic. They are taught early on that..."Fire wants to burn. Water wants to flow. Air wants to rise. Earth wants to bind. Chaos wants to devour." They must learn to master and control these elements as part of their training.
There were several surprise revelations the last third of the book that I never would have anticipated. We discover that a few of the characters are not the typical Magisterium students. Holly and Cassandra didn't leave the readers balancing on the edge of their seats at the end of this book. There was a sense of closure, but I am still anxious to see what they have in store for Call, Aaron, and Tamara in their second year at the Magisterium.