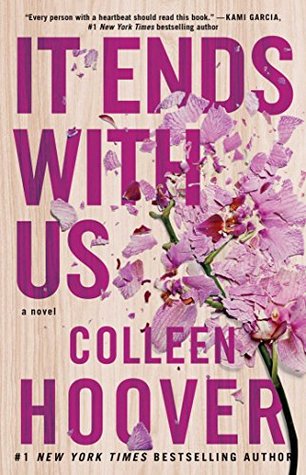 Lily Bloom is a high school student who has grown up in an abusive home. Her father never touched her, but his drinking lead to a number of incidents involving her mother over the years. As a way of working through her thoughts and feelings, she wrote letters to Ellen DeGeneres in a journal. I've only watched Ellen's show a few times, but I loved how Lily wrote as if she were actually sending the letters to Ellen. It was such an original way for Colleen to share with the readers what was going on in Lily's head.
Atlas is a senior at her high school who also comes from a broken home. His mother kicks him out of the house when he turns 18 and he ends up living in an abandoned house behind Lily's. She discovers his situation and starts helping him. She gives him food, blankets, invites him over to use their shower when her parents aren't home, etc. They slowly develop a strong friendship and begin watching Ellen together after school.
Lily and Atlas dream about eventually moving to Boston where "everything would be better." When Lily graduates from college she does in fact move to Boston and starts a career in marketing, but she has always loved gardening and dreams of owning her own flower shop. She also wonders what ever happened to Atlas and why he never came back for her.
Ryle is a neurosurgeon completing his residency at Mass. General. He is ambitious and can be extremely loving and caring, but there is a dark side to him. He has an uncontrollable temper that seems to come out of nowhere. Lily and Ryle meet and eventually start a relationship about a year later. Everything appears to be perfect until Ryle's temper starts creeping up.

Lily loves Ryle, but she refuses to end up like her mother. She swore to herself she would never allow something like that to happen to her, but when it does...it isn't as easy as she thought it would be to walk away from the person she loves.

Overall, Colleen did a remarkable job of creating characters you couldn't help but love. Ryle was even fictional boyfriend material the majority of the time, so I was as conflicted as Lily was when various situations arose. In the end, I think she made the right decision and I was extremely happy with how things turned out in the epilogue.

This book was based upon real events in Colleen Hoover's life and brings up a difficult topic most people don't want to talk about. So many people judge others without understanding the full pictures, but Colleen allows the reader to see the situation from all sides. It certainly isn't as black and white as outsiders often believe it is.

Much like Jennifer Brown's novels, this book is very thought provoking and is not something readers will soon forget. I have yet to read a Colleen Hoover novel that I haven't enjoyed and this is no exception.